THE
C
H
E
E
R
L
E
A
D
E
R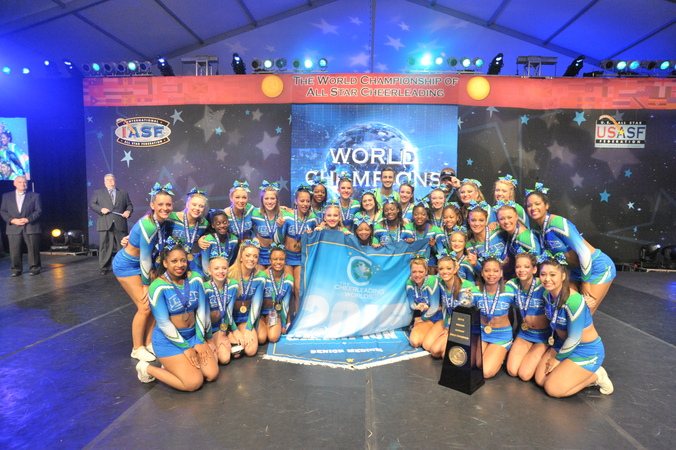 FEATURED SQUAD
The Stingray All Stars Peach
After the first practice, I immediately knew this was going to be a season to remember. Those athletes were special. There was no doubting it. We started at our first exhibition with a hit routine and that began the hype that became our season.
I watched thirty-two stunning girls take the stage at WSF with more confidence than I ever knew possible. They had come for a paid bid to Worlds and weren't leaving without one. Sure enough, we walked away with exactly that.
Then came Cheersport. Day one was far from the best Peach could do, and they were in second. One would think this would discourage athletes. One would think this would cause day two to suffer. But not Peach. They showed up to the Georgia World Congress Center at 9:30 am more ready than ever. Nothing but determination in each and every one of their eyes. That weekend ended in a 2015 Cheersport National Championship in the Medium Senior Level 5 division.
NCA resulted in a tie on day one, a flawless routine on day two, and amazingly a 2015 NCA national championship.
UCA was autopilot. Two hit routines and another championship. The season had been a dream I was waiting to wake up from.
But the best was yet to come.
Everything leading up to that weekend had felt so different, yet exactly the same. Every mark through, every stunt, every jump, every double. It was all just how we had always done it, but you could feel the compulsion to achieve perfection with each and every thing these athletes did. They were leaving for Orlando ready.
Everything about that weekend is a blur. I only remember bits and pieces because it was so perfect. I just kept looking around in complete awe of the amazing team that I was so lucky to be part of. The one thing I still remember, and will absolutely never forget, is looking at Mary McCormick as she got set for her final performance as a Stingray Allstar and saying "you're about to be a world champ."
I then experienced the best two and a half minutes of my life.
Getting sized for my ring. Watching them get sized for their rings. Looking at their smiles. Hugging them. Drying their tears. Taking pictures with the globe. It all felt like a dream. It's all still a dream. A dream I am happy to never have to wake up from.
Aaron Buker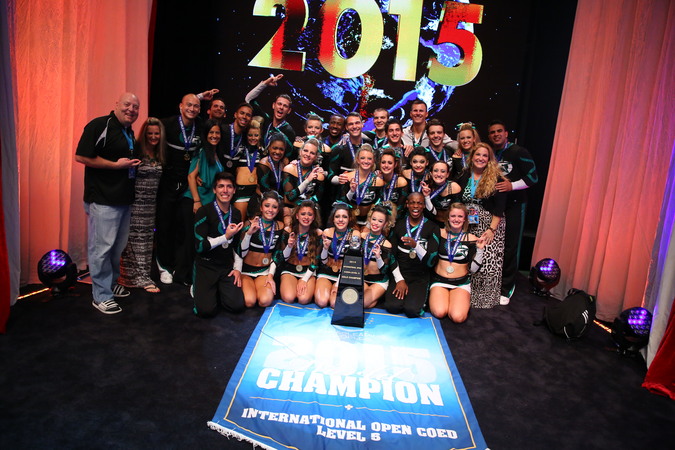 FEATURED SQUAD
Cheerforce Nfinity- World Champions 2015
By: Brendan Matthews
Being a part of Cheerforce Nfinity meant heading to the beach after a Sunday practice for 4 hours with my family to relax. It meant going to see movies together with my best friends. It meant sleepovers, lunch dates, and bonding inside and outside of the gym. Being a part of Nfinity meant - Family. My name is Brendan Mathews and I have been a competitive cheerleader for 25 years. I moved from Tampa, Florida to San Diego, California when I was offered a job working with my first coed team, Cheerforce Senior Black, an undefeated small coed 4. I joined Nfinity before we were called Nfinity. We were Cheerforce Outlawz first using the Cheerforce name from the original Simi Valley location. After the merger of West Coast Mavericks and SoCal Elite Outlawz, we formed Cheerforce San Diego and Nfinity gained it's now, World Champion name.
I just finished my 7th year on the team, since the birth of this division at Cheerforce. 3 of my best friends, David Cardoza "jump rope guy", Desmond Henderson "black beauty" and Ted Good "my opposite" are all the original 4 from 7 years ago. We stuck together and picked up a quite a few brothers and sisters along the way. This past season we had 20 members return, which clearly made it difficult for new talent to join. We don't break our families apart for the next best thing to walk in the door. Winning worlds this past season, was a pure indication that families that stick together, win together.
We practice 3-4 days a week for more than 2 hours, sometimes around 4-6 hours. Nfinity has team members from all over the state of California and in the past, we've had members from all over the country. We had an athlete flyer that would fly in, 7 that would drive from Orange County, 2 hours away, and some that would come from as north as Victorville or Los Angeles! This is what made up such a strong family. So many different personalities from all over the place, each bringing something different to the table.
We've learned that the fastest way to success, is failure. Best thing about failure, is that it's only temporary! After a few years of not making finals at the cheerleading worlds, Cheerforce decided to bring Nfinity to NCA nationals where we competed with no expectations. A zero deduction performance on day 1 scored us a 98.80, a record breaking score in all of NCA history! With pressure at its highest peak, we took the floor on day 2 and not only hit zero deductions again, we broke our day 1 record with a 98.88 on day 2, giving us our first NCA title AND grand champions over 1000 teams. Bronzing at worlds in 2014 in trials and again bronzing at finals due to a stunt drop, pushed so many of us to give it "one more go". Again, with 20 members returning for the 2015 season, we again came to NCA nationals and tied with the honorably Top Gun OO5 on day 1, but coming out on top, with a zero deduction performance on day 2, making us the Back to Back NCA NATIONAL CHAMPS in IOC5! With worlds around the corner, we came together, tighter then we ever imagined. Winning worlds this past season for the second time for myself, first time for my team, is the most unreal feeling one could ever imagine. Nfinity concluded their 2015 season Undefeated! Best year of cheerleading in my entire life. Let's say it was the best 25th anniversary present!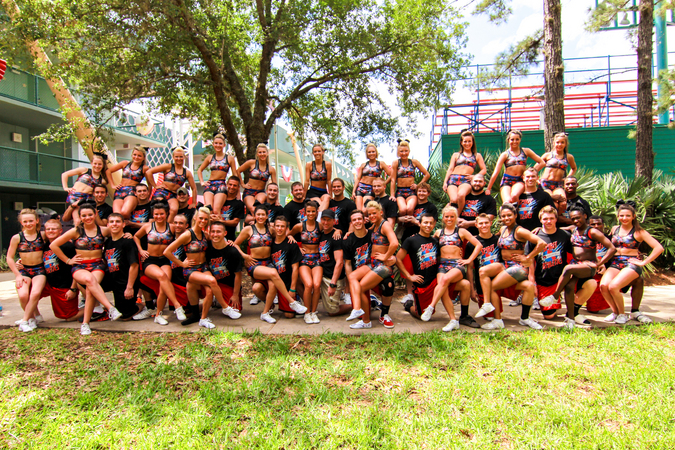 FEATURED SQUAD
Florence, KY
Spirit Athletics is a young program coming out of the great cheer state of Kentucky. It wasn't that long ago when we started our venture in the All Star Cheerleading World. We opened Spirit Athletics in May of 2011. We started with approximately fifteen All Stars, and ever since, we have been trying to get more and more young athletes in our area interested in Competitive Cheerleading.
Jenna and I started Spirit Athletics after being involved in competitive cheerleading for quite a few years. We were involved in both All Star and Collegiate Cheerleading, and we knew this was something that we wanted to be a part of for years to come. Jenna was a member of the National Championship University of Kentucky Blue Squad, and I was a member of the Cheer Program at Morehead State University. It was our love for cheerleading that helped us choose where we attended college. We both had a great experience cheering all the way up until graduation. In the time we spent at these programs, we both learned a lot about coaching, and the importance of always trying to improve ourselves in any way possible. Cheerleading is constantly progressing at a rapid rate, it is vital for us to keep up on new skills, how to teach them, and also how to give athletes the confidence they need in order to obtain these constantly evolving skills. There is no room for complacency if you want to be successful in this sport. This is a core value that we try our hardest to instill in our athletes. Not every athlete is destined to be a World Champion, but it is important for them to be constantly striving to better themselves. This is a characteristic that we hope carries over into their everyday lives for years to come.
With an extreme passion for the sport, and with the help of a great coaching staff, we were able to grow our program to include several teams by the end of that first summer. In our first year we had a fair amount of success with all of our teams, and obtained a Worlds Bid for both our Small Coed, and our IOC 5. Our second year, we grew a little bit more, and our athletes were even stronger. We had an exciting season, won some good competitions, and once again, had two teams obtain bids to The Cheerleading World Championships. This time we attended Worlds with a Large Coed, and an IOC 6. We have been very fortunate with producing some fairly strong senior age teams, but we are even more fortunate to have a gym full of very passionate, young athletes. We have been developing a large amount of talent on our younger teams. We do our best to instill that same attitude of desire and determination amongst all of our teams, no matter what age, or skill level. This year our program included both a Youth Level 2, and a Youth Level 4 team. These young athletes will eventually help us bring Spirit Athletics to the level that we have always dreamed of. We are in the midst of our third season now, and it is turning out to be our most successful one yet.
We have always been motivated to grow our program in both size and talent level. What we did not plan for, or expect, was for our gym to grow into more of a community. Our athletes seem to be spending more time in the gym, and lifelong friendships are constantly being made. We recently had a big supporter of our program go through the tragedy of a house fire. The support that immediately came from within our program was astonishing. We have done toy drives, canned food drives, and are always looking for ways to participate in our community.
It has been an amazing experience being able to work with all of these athletes. To see them push themselves to reach personal goals, to see them succeed, and to be there for them when they don't. For us to just be a part of their lives, and to witness them share the same love for this sport as we do, has been an amazing experience so far. Cheerleading in our region is highly competitive. Within a two hour radius of our facility, there are some tremendous cheer programs. Since the beginning, it has been our goal to establish ourselves among these highly competitive and successful programs. More importantly, we have been striving to provide invaluable life lessons and experiences to the athletes that train here.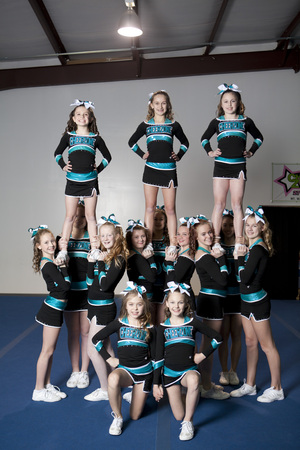 FEATURED SQUAD
Junior 3
Mount Washington, KY
Cheer Zone Junior 3
I can't say enough about this team and what a great group of kids they are! They are the epitome of hard work. Normally we have a few kids on every team that are "gym rats" and can't get enough, but that is this entire team. They are all constantly in the gym working on new stunts, new tumbling, whatever they can do to get new skills. They are always willing to try something new, and do whatever it takes to make themselves better.
This team is a mix of so many different personalities, and so many different cheer backgrounds... There are kids that I coached when they were just starting out five or six years ago, and a couple kids that have never cheered before this year. As a team, they attend eight different schools, but they all come together and make it work. It's not always easy to have so many different personalities from so many different places, but these kids click. Their stunt groups come together and work hard, and no matter what cheer and making this routine hit is their priority. They have had many ups and downs to get to this point, but they've used that to make themselves better as an entire team. There is a "spunk" about this group this year, and I believe this is just the beginning of the amazing things they are going to do. I worked them hard from the very beginning because I knew their potential, and there were a lot of kids that couldn't keep up... These are the kids that stuck it through and never lost sight of the big picture, and to have them succeed and finally be rewarded in such a big way is indescribable as a coach.
- Coach Tamara Erdes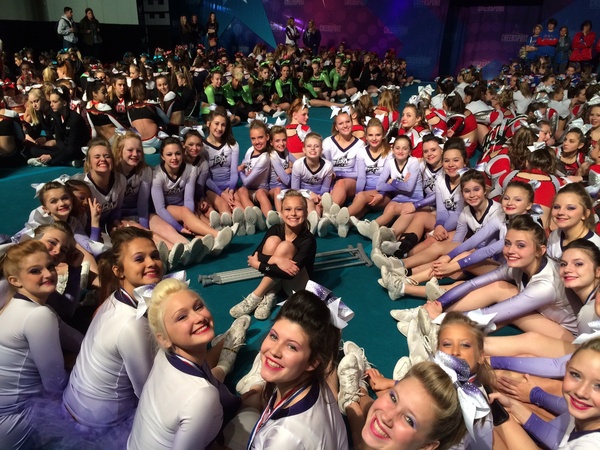 FEATURED SQUAD
Bullitt Athletics
Shepherdsville, KY
By: Owner, John Kirk
My business partner Matt Napier and I were always involved in athletics growing up but it wasn't until my senior year in 2002 and his junior year in 2004 that we each decided to cheer at Bullitt Central High School. Matt and I were immediately sucked into the fun and hard working atmosphere. After cheering in college at WKU together and working at an all star gym there we wanted to bring our passion and energy back to Shepherdsville, KY.
Bullitt Athletics opened June 1st, 2013 and has doubled in size since. It is a 12,000 sq. ft. facility with one 9 panel spring floor, two 9 panel dead floors, 30ft tumble trak, private practice area with a full floor and plenty of other equipment. All of this allows us to give the best training we can while providing safety in the process. BA provides All Star teams, School instruction, tumbling classes, choreography and more. We could have never imagined the great success in our first season with All Stars winning the overall US Finals Championship and this season receiving two bids to the Summit. Along with those accomplishments our school side has been very exciting winning three state championships this season. All those things couldn't have happened without the great group of athletes that we have started out program with and an amazing staff. Matt and I consider ourselves extremely blessed and humble because we get to do what we love every day and have been successful at it. Although we are a small gym we still have big dreams for our athletes and program.
BA has become a second home, a safe environment, and a POSITIVE family the athletes can always depend on for support. Seeing those kids make new friends and develop a bond with their teammates is awesome. That's what it's all about.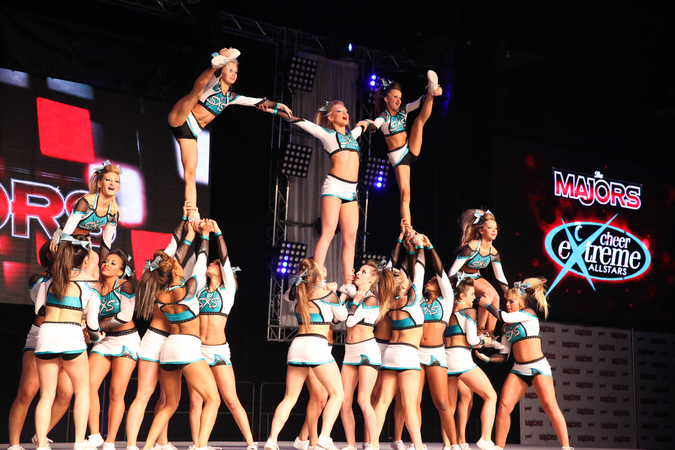 FEATURED SQUAD
Small Senior 5
Raleigh, NC
The history of the Small Senior 5 division for Cheer Extreme dates back to May 2006, which is also the month I graduated from North Carolina State University. I had cheered there for 4 years under Harold Trammel on the varsity squad and experienced some amazing events with my team such as winning the Gator Bowl, cheering on our basketball team in the sweet sixteen and placing second at NCA Nationals in Daytona Beach. Like every cheer-obsessed senior in college, I was trying to decide which path to go down with my business degree which can be a very overwhelming decision. Cheer Extreme is a family-owned business and we had decided that the Raleigh market needed a business model similar to what CEA could offer. I promised Courtney that I would take a break from looking for employment or furthering my education to help her open the Raleigh branch of CEA. My career in cheerleading was only supposed to last a year or two…but nine seasons later, I can't imagine my life without cheerleading in it on an hourly basis.
So, we go back to our first tryout. Cheerleading in 2006 was not close to what is has become. Back then, almost every girl trying out for the team had a layout—if we were lucky a full—and jumps to tuck. The difference between who made the team and who did not wasn't the size of their calf muscle or even flexibility at the time, it was their ability to perform—a value that we still hold incredibly highly to this day. There was one girl in particular who had it all and stood out with her whip whip double that she had learned from a neighborhood gymnastics instructor. Miss Kimsley Crews would remain with us for years and become the team's first ever well-known athlete. She made me realize the direction that cheerleading was headed and gave all of the other girls a goal to achieve. Her power and grace mixed with her ability to perform and be a good friend was the basis for what the team is today.
People who know this team from back in the day remember Kimsley being last pass for years, "I'm the bomb like tic tic", the flexibility of our flyers, the "I'm Every Woman" Dance and the "boom dynamite" era. It has been such a pleasure creating moments like those for the girls to enjoy and remember for years to come.
It was in the years that followed those moments that these girls adopted the Shark Mascot. We had always had our heart with wings logo but I had been searching for something with more meaning that the girls could relate to. At our first regional competition in 2009, I placed a teal shark gummy in each of their goody bags and explained how it was the most dangerous animal in the ocean. There may be other teams with ocean-themed mascots that would fight for their title as we continued on our journey through the season (one in particular that currently holds 8 world championships), but I wanted them to know they were special and strong. I expected them to work to be their best so that one day a world's title could belong to them as well.
As a fun fact--The name, SSX (Small Senior X) was actually adopted in our world's mix of 2010. It was our music producer's idea to differentiate Raleigh from the well-known "Elite" endings of the Kernersville team names. The name change ironically took place after our music producer and I called off an 8 month relationship. In order to poke at least a little bit of fun at the situation, he later told me he added an X at the end of all of Raleigh's Level 5 team names to signify that I was indeed the "ex". ☺
The years go by…many last passes and center flyers later, and we are yet again blessed with 20 hard-working and motivated individuals. They want to make the alumni girls proud and continue to put routines on the mat that carry their personality. Our theme has always been girl power so we fill our routines with sassy movements and memorable music with atleast one section with powerful undertones to remind others that we mean business. Their goal this season is not to be known as the blonde bombshells that spin high in the air with teased ponytails…they want to be noted for their skill. They work hard, just as all cheerleaders of this day and age do, and love what they do.
We have been in this division for 8 years straight and plan on being in it for many more to come. My coaching staff is amazing at what they do and I am forever grateful for all of the time and effort they have put into making this team of 20 girls be the best they can be. We have placed 2nd at the World Championship 3 times and medaled a total of 5, we were crowned Champion of the Majors and Champion's League last season, and have won countless national championships. What is most important to me are the friendships I have been responsible in creating. At the end of the day, I want these girls to feel like sisters when they take the floor and end up being by each other's side at graduations, weddings and when they start their own families. Allstar cheerleading gives my girls the gift of a lifetime--true friendship. We are happy to be along for the ride with them and guide them on their journey. But for now, we are yet again-Back to Bite.
- Kelly Smith