THE
C
H
E
E
R
L
E
A
D
E
R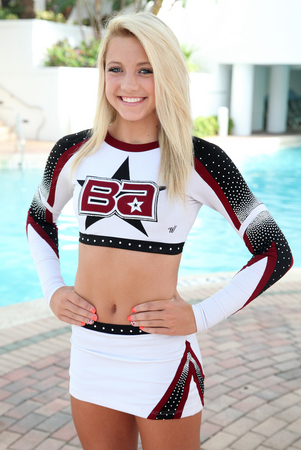 FEATURED CHEERLEADER
Tacy Dirscherl
Brandon All Stars
Brandon, FL
Name: Tacy Dirscherl
Gym Name: Brandon Allstars
Age: 15
Signature Skills: Front handspring, punch front, round-off backhandspring, double.
Biggest Accomplishment in cheerleading: First, I would say the day I received my letter from Peter, Joslynne, and Kyle saying that I made Brandon Senior Black. Then I would say my whole season last year! The feeling of winning NCA, Triple Crown, and 3rd in the World was an accomplishment that my teammates and me will never forget!
What is your favorite part of your program? This is a hard because Brandon Allstars is such an amazing place to cheer for so many reasons! I like to work hard so I think my favorite thing is being on a team of 20 where everyone has the same goal and the same work ethic. Also, the coaches' influence on us to be the best we can be on and off the mat.
Why do you love cheer? It keeps you in amazing shape and the forever friendships you build. Not only that, it has taught me many life lessons I wouldn't have been able to learn without cheerleading.
Who is your role model in the cheer world? My role models in the cheer world are DEFINITELY my coaches. They set such a great example of whom I aspire to be and are always so positive and willing to help. They have taught me so much and for everything they do, they are definitely my role models.