THE
C
H
E
E
R
L
E
A
D
E
R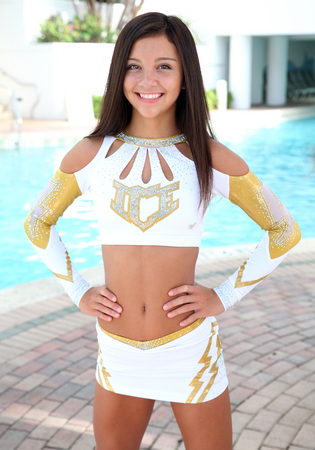 FEATURED CHEERLEADER
KAYLIE 'MINNIE' FRANK
ICE All Stars
Gym Name: Ice All Stars
Age: 14
Signature Skills: Punch to double, standing full, two to double
Biggest accomplishment in cheerleading- My biggest accomplishment in cheerleading is becoming team captain of Lightning this season. At the beginning of last season I was one of the weaker athletes on the team. After a season of hard work I've become a much better athlete and I'm now honored to be captain of Lady Lightning.
What is your favorite part of your program?            
My favorite part of the program I'm a part of is the bond we
all have together and that we're all working together to
accomplish our goals while having fun along the way. This gym
and the people there have become my second family and they're always there for me.
Why do you love cheer?  I love cheer because everything about cheer makes me happy. When I was 4 years old my love and dedication for cheer started the second I stepped on the mat. Cheerleading has taught me many life lessons that most kids my age haven't been taught yet. Whenever I'm having a bad day I'm able to go into the gym and forget about everything that happened. Cheer is a huge part of my life and it always will be.
Who is your role model in the cheer world? My role model in the cheer world is Darlene Fanning. This is the second year being coached by her and she is by far the most successful coach I have ever had. As I get older I hope that I'm as successful as her in life and in my career. She is a great leader to others and is constantly helping her athletes to achieve their dreams. She has love and dedication for her job and I hope to be the same as her one day.
No matter how tough she can be at times I know she's only doing
it to make me a better athlete.