THE
C
H
E
E
R
L
E
A
D
E
R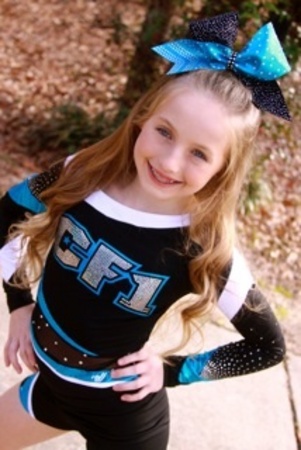 FEATURED CHEERLEADER
Makenzie Elleard
Cheer Force One All Stars
Position: Flyer
Birthday: November 30, 2005
Grade in School: 4th
School Name/Gym Name: Cheer Force One
Hometown: Semmes, Alabama
Signature Tumbling Skills (standing and running): running tumbling - roundoff BHS full. Punch front step out through to roundoff BHS layout/tuck. Front handspring punch front through to BHS tuck. Side ariel. standing- BHS layout, standing tuck, toe touch tuck .
Signature Basket skills: toe touch & pike basket, full basket, kick full.
Signature Stunting Skills: co-ed stunting- Hand in hand pop up to stretch. Rewinds, back hand-spring ups, cartwheel ups, full up to stretch, cupie All girl - Full up to stretch tick tock to scor-pion double down. ball ups, double downs, I have my needle.
Awards/Recognition: 2x Jamfest National Champion, American Open National Champion, Gym awards-2010 most improved, 2011outstanding performer, 2013 team star performer. Nfinity Jr. All American. I have always had A honor roll in school.
What makes you a great leader for your team? At 9, I am the youngest on my team. I always try to encourage everyone on my team, especially if they are struggling with a skill, I love to see peo-ple succeed! I hope to be a role model to younger girls, i want to inspire them to dream big, set goals high, and work hard to accomplish those dreams.
What part of cheerleading do you enjoy the most? I love everything about cheerleading, but the most exciting thing for me is getting to perform what you have worked so hard for on stage, it's the best feeling hearing the music start and giving it all you have for 2 min and 30 seconds. I love performing and doing everything it takes to be the best I can be. I love my gym, they are my fam-ily!
Do you consider cheerleading a sport? Why? Yes Cheerleading is a sport! I work just as hard as any other athlete. Some days in the summer I am at the gym 11 hours taking every extra clinic and class working on getting new skills and perfecting old ones. We compete just like every other sport, if anything it is one of the hardest sports because there are many different areas you have to work at and you need to constantly grow as an athlete.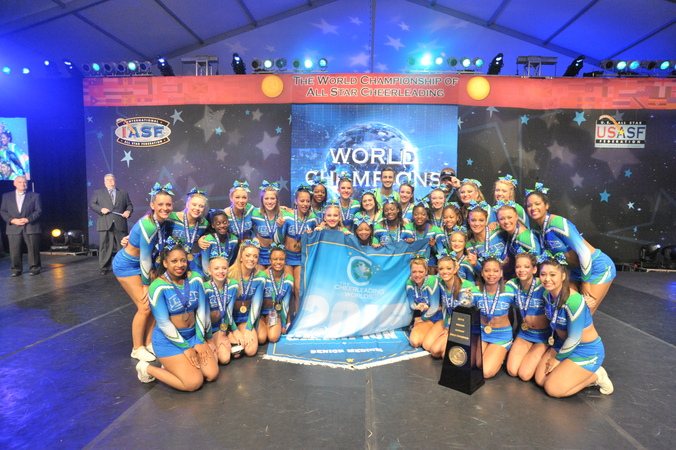 FEATURED GYM/TEAM
The Stingray All Stars Peach
After the first practice, I immediately knew this was going to be a season to remember. Those athletes were special. There was no doubting it. We started at our first exhibition with a hit routine and that began the hype that became our season.
I watched thirty-two stunning girls take the stage at WSF with more confidence than I ever knew possible. They had come for a paid bid to Worlds and weren't leaving without one. Sure enough, we walked away with exactly that.
Then came Cheersport. Day one was far from the best Peach could do, and they were in second. One would think this would discourage athletes. One would think this would cause day two to suffer. But not Peach. They showed up to the Georgia World Congress Center at 9:30 am more ready than ever. Nothing but determination in each and every one of their eyes. That weekend ended in a 2015 Cheersport National Championship in the Medium Senior Level 5 division.
NCA resulted in a tie on day one, a flawless routine on day two, and amazingly a 2015 NCA national championship.
UCA was autopilot. Two hit routines and another championship. The season had been a dream I was waiting to wake up from.
But the best was yet to come.
Everything leading up to that weekend had felt so different, yet exactly the same. Every mark through, every stunt, every jump, every double. It was all just how we had always done it, but you could feel the compulsion to achieve perfection with each and every thing these athletes did. They were leaving for Orlando ready.
Everything about that weekend is a blur. I only remember bits and pieces because it was so perfect. I just kept looking around in complete awe of the amazing team that I was so lucky to be part of. The one thing I still remember, and will absolutely never forget, is looking at Mary McCormick as she got set for her final performance as a Stingray Allstar and saying "you're about to be a world champ."
I then experienced the best two and a half minutes of my life.
Getting sized for my ring. Watching them get sized for their rings. Looking at their smiles. Hugging them. Drying their tears. Taking pictures with the globe. It all felt like a dream. It's all still a dream. A dream I am happy to never have to wake up from.
Aaron Buker