THE
C
H
E
E
R
L
E
A
D
E
R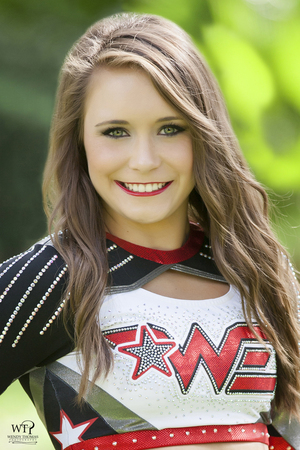 FEATURED CHEERLEADER
MacKenzie Trent
Woodlands Elite Generals
Cypress, TX
Photo by: Wendy Thomas Photography
Position: Base for Generals, Flyer for Cypress Ranch High School Varsity squad
Birthday: April 21, 1998
Grade in School: Senior
Gym/school: Woodlands Elite Generals
GPA: 6.27
Hometown: Cypress, Texas
Signature Tumbling: Standing Full, Round off Back handspring Double
Signature Stunting Skills: Cartwheel up to Cupie, Front handspring up to Cupie, hand to hand pop extension, rewind to heel stretch
Awards: 2015 World Champion, 4 time NCA Champion Small Senior 5
What makes you a great leader: I always try to have great work ethics, positive attitude and support my team throughout practices. I remind them that as a team we can accomplish anything.
What part of cheerleading do you enjoy most: I enjoy being on a team with people I love, admire and respect. It is an incredible feeling when you know that the hard work, long hours, and dedication has paid off.
Do you consider cheerleading a sport? Yes. Cheerleading takes many hours of intense training that is both physically and mentally challenging. There is no off season for competitive Cheer. We train 12 months a year to be good at what we do.