THE
C
H
E
E
R
L
E
A
D
E
R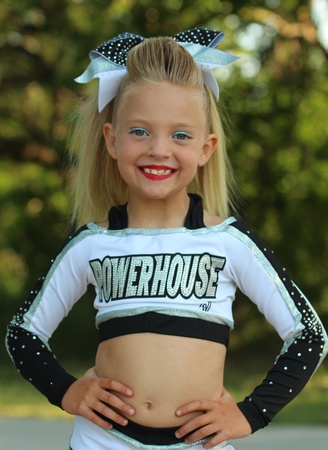 FEATURED CHEERLEADER
Alexandria Jordan Gatewood "AJ"
Powerhouse Cheer
Belton, Texas
Name: Alexandria Jordan Gatewood "AJ"
Position: Flyer
Birthday: 09-02-2006
Grade in School: 2nd
School Name/Gym Name: Powerhouse Cheer, Belton Texas
G.P.A.: 3.6 @ Central Texas Christian School, Temple, Texas
Hometown: Temple, Texas
Signature Tumbling Skills (standing and running): Running RO, BH, BH, BTuck
Signature Basket skills: Twist to basket and back up to scorpion. I love the scorpion!
Signature Stunting Skills: Scorpion, Aerobesque, Twist, Rewind, Handstand
Awards/Recognition: NCA National Champion, Youth 1, American Cheer Power Y1, National Champion, The Summit Y1 Finalist
What makes you a great leader for your team? I work hard to do my best to help my team perform at the upper level by practicing hard and achieving personal goals that help my team. I am always there for them and I cheer for all the teams in my gym and this helps me show gym and individual team leadership.
What part of cheerleading do you enjoy the most? I enjoy high flying and my Scorpion at the top of a one man!
Do you consider cheerleading a sport? Why? Cheerleading is a sport because I work out 8 hours a week in the gym, strengthening when at home, stretching when I can and then performing at the top levels. A sport requires hard work and dedication and endurance and that is why my sport is Cheerleading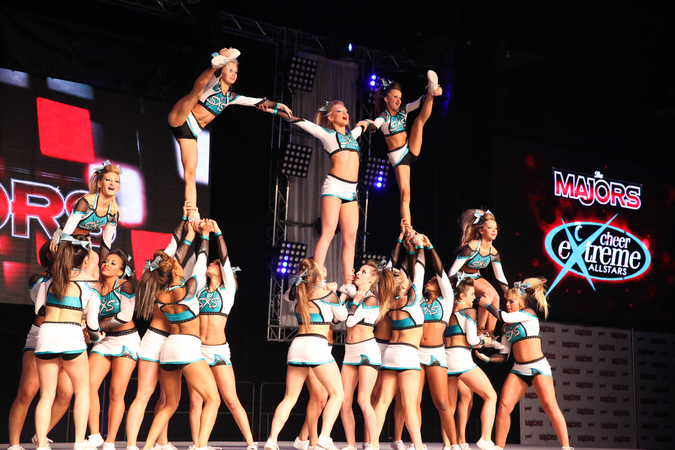 FEATURED GYM/TEAM
Small Senior 5
Raleigh, NC
The history of the Small Senior 5 division for Cheer Extreme dates back to May 2006, which is also the month I graduated from North Carolina State University. I had cheered there for 4 years under Harold Trammel on the varsity squad and experienced some amazing events with my team such as winning the Gator Bowl, cheering on our basketball team in the sweet sixteen and placing second at NCA Nationals in Daytona Beach. Like every cheer-obsessed senior in college, I was trying to decide which path to go down with my business degree which can be a very overwhelming decision. Cheer Extreme is a family-owned business and we had decided that the Raleigh market needed a business model similar to what CEA could offer. I promised Courtney that I would take a break from looking for employment or furthering my education to help her open the Raleigh branch of CEA. My career in cheerleading was only supposed to last a year or two…but nine seasons later, I can't imagine my life without cheerleading in it on an hourly basis.
So, we go back to our first tryout. Cheerleading in 2006 was not close to what is has become. Back then, almost every girl trying out for the team had a layout—if we were lucky a full—and jumps to tuck. The difference between who made the team and who did not wasn't the size of their calf muscle or even flexibility at the time, it was their ability to perform—a value that we still hold incredibly highly to this day. There was one girl in particular who had it all and stood out with her whip whip double that she had learned from a neighborhood gymnastics instructor. Miss Kimsley Crews would remain with us for years and become the team's first ever well-known athlete. She made me realize the direction that cheerleading was headed and gave all of the other girls a goal to achieve. Her power and grace mixed with her ability to perform and be a good friend was the basis for what the team is today.
People who know this team from back in the day remember Kimsley being last pass for years, "I'm the bomb like tic tic", the flexibility of our flyers, the "I'm Every Woman" Dance and the "boom dynamite" era. It has been such a pleasure creating moments like those for the girls to enjoy and remember for years to come.
It was in the years that followed those moments that these girls adopted the Shark Mascot. We had always had our heart with wings logo but I had been searching for something with more meaning that the girls could relate to. At our first regional competition in 2009, I placed a teal shark gummy in each of their goody bags and explained how it was the most dangerous animal in the ocean. There may be other teams with ocean-themed mascots that would fight for their title as we continued on our journey through the season (one in particular that currently holds 8 world championships), but I wanted them to know they were special and strong. I expected them to work to be their best so that one day a world's title could belong to them as well.
As a fun fact--The name, SSX (Small Senior X) was actually adopted in our world's mix of 2010. It was our music producer's idea to differentiate Raleigh from the well-known "Elite" endings of the Kernersville team names. The name change ironically took place after our music producer and I called off an 8 month relationship. In order to poke at least a little bit of fun at the situation, he later told me he added an X at the end of all of Raleigh's Level 5 team names to signify that I was indeed the "ex". ☺
The years go by…many last passes and center flyers later, and we are yet again blessed with 20 hard-working and motivated individuals. They want to make the alumni girls proud and continue to put routines on the mat that carry their personality. Our theme has always been girl power so we fill our routines with sassy movements and memorable music with atleast one section with powerful undertones to remind others that we mean business. Their goal this season is not to be known as the blonde bombshells that spin high in the air with teased ponytails…they want to be noted for their skill. They work hard, just as all cheerleaders of this day and age do, and love what they do.
We have been in this division for 8 years straight and plan on being in it for many more to come. My coaching staff is amazing at what they do and I am forever grateful for all of the time and effort they have put into making this team of 20 girls be the best they can be. We have placed 2nd at the World Championship 3 times and medaled a total of 5, we were crowned Champion of the Majors and Champion's League last season, and have won countless national championships. What is most important to me are the friendships I have been responsible in creating. At the end of the day, I want these girls to feel like sisters when they take the floor and end up being by each other's side at graduations, weddings and when they start their own families. Allstar cheerleading gives my girls the gift of a lifetime--true friendship. We are happy to be along for the ride with them and guide them on their journey. But for now, we are yet again-Back to Bite.
- Kelly Smith