THE
C
H
E
E
R
L
E
A
D
E
R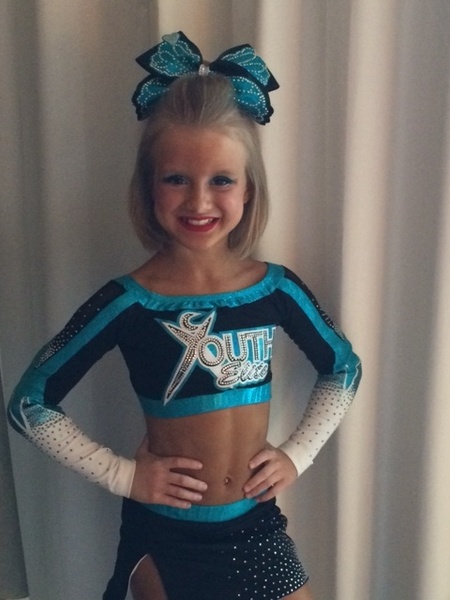 FEATURED CHEERLEADER
Madison Dorton
Cheer Extreme Youth Elite
Kernersville, NC
Name: Madison Marie Dorton
Position: Flyer
Birthday: November 12, 2004
Grade in School: 3rd
School Name/Gym Name: Forbush Elementary School / Cheer Extreme
G.P.A.: A
Hometown: East Bend, NC
Signature Tumbling Skills (standing and running): Triple toe back / Roundoff back handspring full
Signature Basket skills: Kick, kick double / Pretty girl
Signature Stunting Skills: 1 1/2 up high to high tic toc
Awards/Recognition: I have won NCA 2 times with my Youth Elite team and just recently won UCA with Junior Elite. I have won several stunt group individuals and I am on the A Honor Roll at school.
What makes you a great leader for your team?
I believe in having a positive attitude on and off the floor. I always try to be encouraging to my team mates!
What part of cheerleading do you enjoy the most? I love everything about cheerleading! Stunting, tumbling, dancing and entertaining the crowds. I enjoying traveling to all of the different cities and the opportunities it gives me to meet new people and make friends.
Do you consider cheerleading a sport? Why? Absolutely, I consider cheerleading a sport! We practice almost year round, numerous hours, weekly. It's hard work and takes skill. It takes a great deal of energy, strength and endurance to perform a 2:30 routine!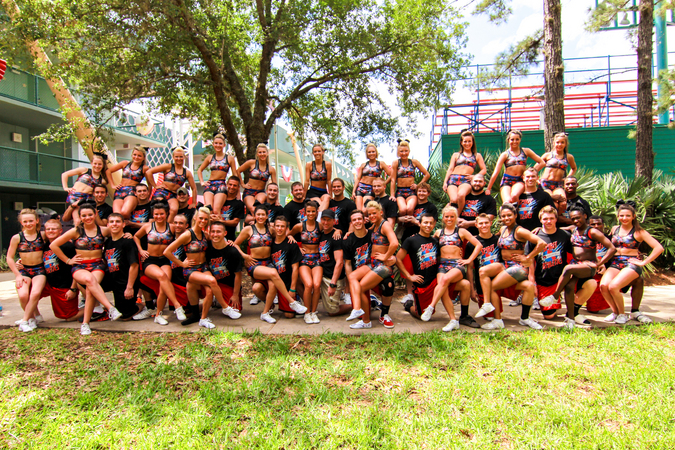 FEATURED GYM/TEAM
Florence, KY
Spirit Athletics is a young program coming out of the great cheer state of Kentucky. It wasn't that long ago when we started our venture in the All Star Cheerleading World. We opened Spirit Athletics in May of 2011. We started with approximately fifteen All Stars, and ever since, we have been trying to get more and more young athletes in our area interested in Competitive Cheerleading.
Jenna and I started Spirit Athletics after being involved in competitive cheerleading for quite a few years. We were involved in both All Star and Collegiate Cheerleading, and we knew this was something that we wanted to be a part of for years to come. Jenna was a member of the National Championship University of Kentucky Blue Squad, and I was a member of the Cheer Program at Morehead State University. It was our love for cheerleading that helped us choose where we attended college. We both had a great experience cheering all the way up until graduation. In the time we spent at these programs, we both learned a lot about coaching, and the importance of always trying to improve ourselves in any way possible. Cheerleading is constantly progressing at a rapid rate, it is vital for us to keep up on new skills, how to teach them, and also how to give athletes the confidence they need in order to obtain these constantly evolving skills. There is no room for complacency if you want to be successful in this sport. This is a core value that we try our hardest to instill in our athletes. Not every athlete is destined to be a World Champion, but it is important for them to be constantly striving to better themselves. This is a characteristic that we hope carries over into their everyday lives for years to come.
With an extreme passion for the sport, and with the help of a great coaching staff, we were able to grow our program to include several teams by the end of that first summer. In our first year we had a fair amount of success with all of our teams, and obtained a Worlds Bid for both our Small Coed, and our IOC 5. Our second year, we grew a little bit more, and our athletes were even stronger. We had an exciting season, won some good competitions, and once again, had two teams obtain bids to The Cheerleading World Championships. This time we attended Worlds with a Large Coed, and an IOC 6. We have been very fortunate with producing some fairly strong senior age teams, but we are even more fortunate to have a gym full of very passionate, young athletes. We have been developing a large amount of talent on our younger teams. We do our best to instill that same attitude of desire and determination amongst all of our teams, no matter what age, or skill level. This year our program included both a Youth Level 2, and a Youth Level 4 team. These young athletes will eventually help us bring Spirit Athletics to the level that we have always dreamed of. We are in the midst of our third season now, and it is turning out to be our most successful one yet.
We have always been motivated to grow our program in both size and talent level. What we did not plan for, or expect, was for our gym to grow into more of a community. Our athletes seem to be spending more time in the gym, and lifelong friendships are constantly being made. We recently had a big supporter of our program go through the tragedy of a house fire. The support that immediately came from within our program was astonishing. We have done toy drives, canned food drives, and are always looking for ways to participate in our community.
It has been an amazing experience being able to work with all of these athletes. To see them push themselves to reach personal goals, to see them succeed, and to be there for them when they don't. For us to just be a part of their lives, and to witness them share the same love for this sport as we do, has been an amazing experience so far. Cheerleading in our region is highly competitive. Within a two hour radius of our facility, there are some tremendous cheer programs. Since the beginning, it has been our goal to establish ourselves among these highly competitive and successful programs. More importantly, we have been striving to provide invaluable life lessons and experiences to the athletes that train here.