THE
C
H
E
E
R
L
E
A
D
E
R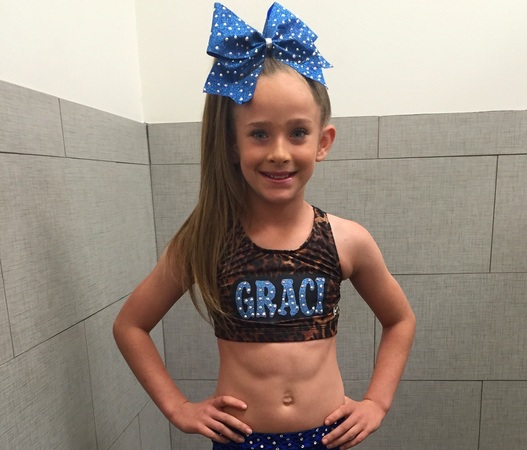 FEATURED CHEERLEADER
Graci Brown
Cheer Athletics- Jags Junior Coed Level 5
Nocona, TX
Position: Flyer and Tumbler
Birthday: July 21, 2006
Grade in School: 3rd
School Name/Gym Name: Cheer Athletics- Jags Junior coed level 5
Hometown: Nocona, TX
Signature Tumbling Skills (standing and running): Standing- standing 3 bhs to double full. Currently working standing fulls and almost have it. Running- round off Arabian thru to double full
Signature Basket skills: Kick double and switch kick double
Signature Stunting Skills: Rewinds, cartwheel ups, or double up to overstretch kick needle to scale double down
Awards/Recognition: NCA national champions 2 years in a row in 2014, 2015, Summit qualifier with both my youth and junior teams. Best mini and youth tumbler awards from American Cheer Power and Best mini jumper. Over 15 National Champions Jackets in 3 years with my moms gym Nocona Cheer Unlimited.
What makes you a great leader for your team? Most of the time I have been the youngest on my teams but I still make sure to be a leader. I try my best to keep everyone excited and encourage everyone to always try their best. I work extremely hard to reach my goals and motivate others on my team to do the same.
What part of cheerleading do you enjoy the most? I love performing a routine that we've worked so hard to perfect. I love walking off the mat with my cheer sisters knowing that all of our hard work and sacrifice was worth it. I also love bonding with my team and meeting amazing cheerleaders from all over the nation.
Do you consider cheerleading a sport? Why? My mom owns the gym that I have cheered at up until this year so I have literally grown up from a baby in the gym. I have watched countless hours of practices and view cheerleading as nothing other than a SPORT. It takes hard work, dedication, sacrifice and literally blood sweat and tears. Just like any other sport cheerleaders put in countless hours at the gym to make sure their skills are perfected. We compete against other teams for the same feeling and reward as any other sport. I think it is 150% a true sport and it's the sport that I love!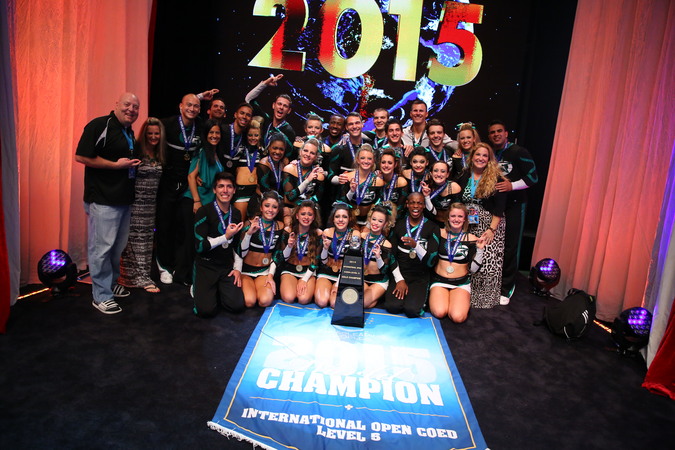 FEATURED GYM/TEAM
Cheerforce Nfinity- World Champions 2015
By: Brendan Matthews
Being a part of Cheerforce Nfinity meant heading to the beach after a Sunday practice for 4 hours with my family to relax. It meant going to see movies together with my best friends. It meant sleepovers, lunch dates, and bonding inside and outside of the gym. Being a part of Nfinity meant - Family. My name is Brendan Mathews and I have been a competitive cheerleader for 25 years. I moved from Tampa, Florida to San Diego, California when I was offered a job working with my first coed team, Cheerforce Senior Black, an undefeated small coed 4. I joined Nfinity before we were called Nfinity. We were Cheerforce Outlawz first using the Cheerforce name from the original Simi Valley location. After the merger of West Coast Mavericks and SoCal Elite Outlawz, we formed Cheerforce San Diego and Nfinity gained it's now, World Champion name.
I just finished my 7th year on the team, since the birth of this division at Cheerforce. 3 of my best friends, David Cardoza "jump rope guy", Desmond Henderson "black beauty" and Ted Good "my opposite" are all the original 4 from 7 years ago. We stuck together and picked up a quite a few brothers and sisters along the way. This past season we had 20 members return, which clearly made it difficult for new talent to join. We don't break our families apart for the next best thing to walk in the door. Winning worlds this past season, was a pure indication that families that stick together, win together.
We practice 3-4 days a week for more than 2 hours, sometimes around 4-6 hours. Nfinity has team members from all over the state of California and in the past, we've had members from all over the country. We had an athlete flyer that would fly in, 7 that would drive from Orange County, 2 hours away, and some that would come from as north as Victorville or Los Angeles! This is what made up such a strong family. So many different personalities from all over the place, each bringing something different to the table.
We've learned that the fastest way to success, is failure. Best thing about failure, is that it's only temporary! After a few years of not making finals at the cheerleading worlds, Cheerforce decided to bring Nfinity to NCA nationals where we competed with no expectations. A zero deduction performance on day 1 scored us a 98.80, a record breaking score in all of NCA history! With pressure at its highest peak, we took the floor on day 2 and not only hit zero deductions again, we broke our day 1 record with a 98.88 on day 2, giving us our first NCA title AND grand champions over 1000 teams. Bronzing at worlds in 2014 in trials and again bronzing at finals due to a stunt drop, pushed so many of us to give it "one more go". Again, with 20 members returning for the 2015 season, we again came to NCA nationals and tied with the honorably Top Gun OO5 on day 1, but coming out on top, with a zero deduction performance on day 2, making us the Back to Back NCA NATIONAL CHAMPS in IOC5! With worlds around the corner, we came together, tighter then we ever imagined. Winning worlds this past season for the second time for myself, first time for my team, is the most unreal feeling one could ever imagine. Nfinity concluded their 2015 season Undefeated! Best year of cheerleading in my entire life. Let's say it was the best 25th anniversary present!