THE
C
H
E
E
R
L
E
A
D
E
R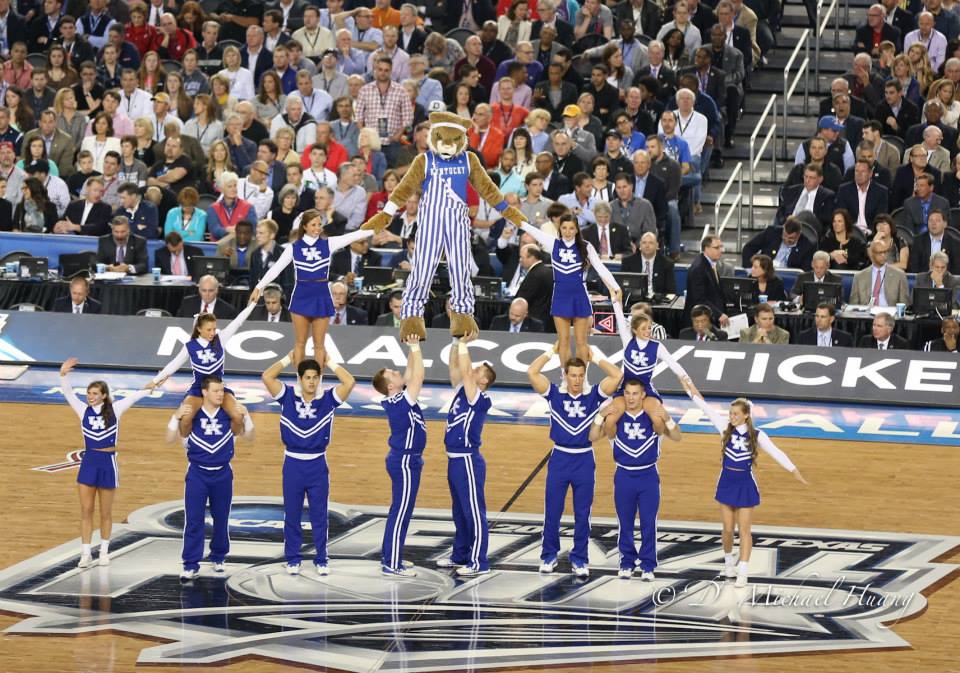 NCAA National Championship with Jacqui!!
Jacqui Lopez
Being on the sidelines for UK Basketball games gives me so many emotions. It may be the best feeling I've ever experienced. During the games, it is not only exciting to be doing what I love the most (cheering) but it is also amazing to see thousands around you doing the same thing. That's one of my favorite parts of cheering the basketball games. For about two hours straight, everyone has this fire in there eyes and you can just tell from the bottom of their heart that they want to win!

As a cheerleader, I will never forget this basketball season. Cheering for this team at the beginning of the season was fun, but the games that we are in now are unbelievable. I always say "that's the best basketball game I've ever watched" but then we play again and it's even better. This team has come a long way and they're very deserving to be here in Dallas.

Speaking of Dallas, the atmosphere here is awesome. Everywhere I go I always see people in Kentucky clothes and they're always chanting go cats! The big blue nation is seriously everywhere! Our fans are some of the greatest fans. Tonight is the National Championship game, so we have a busy day today. To help fire up our fans we have two pep rallies before the game! Were going to get the alumni and fans ready at Fish Bone Grill and the Tip Off Tailgate! I'm so excited for the pep rallies. I love seeing the fans stand up and clap and smile. It's important that they know we are ready for the game! Following the pep rallies we will head over to the stadium. The AT&T stadium is huge!! It's the biggest stadium I've ever been in. My jaw dropped when I first saw it from the outside. We will stretch and warm up our stunts and every time-out possibility. We will double check that everything is set up on the court just as it should be! Right before the team comes out we get our flags ready and as they start running from the tunnel we take off. I run the K for these games and I have to say running the flags is remarkable.

I'm so excited for the game tonight! I know our team can pull through and I can't wait to cheer them on with the rest of Kentucky!!! Tonight will be a memorable night. It will definitely be one to remember! No matter where you are tonight, let's be loud and yell our colors! These boys feed off of our fans energy, so it's up to is to have their back! See you there and GO CATS!!!
Back to Blogs